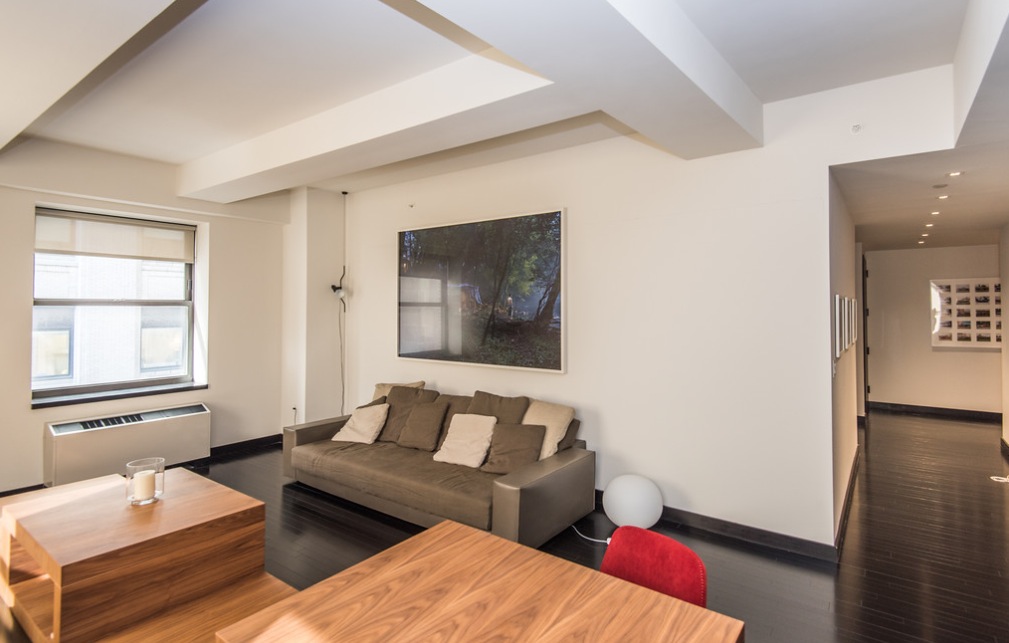 interior made in italy nel cuore di manhattan
Un intervento che ha il suo punto nodale nel living, le cui diverse funzioni (cucina, pranzo, salotto) entrano in relazione grazie a un pezzo unico realizzato su disegno di Annalisa Mauri.
Un elemento d'arredo in noce canaletto che, come un nastro che si snoda, unisce gli spazi in senso longitudinale e si trasforma: da tavolo nella zona cucina/pranzo diventa elemento basso di seduta, e poi coffee table nell'area conversazione.
Le due sedie da pranzo, totalmente rosse, spezzano il rigore cromatico dell'appartamento il cui progetto ha rispettato i toni neutri preesistenti (pavimenti, infissi, rivestimenti dei bagni).
a made-in-italy interior in the heart of manhattan
A design intervention that sees its focal point in the living area, where the different functions (kitchen, dining, living) interact thanks to an exclusive design piece by Annalisa Mauri.
A furnishing element in canaletto walnut that unfolds, joining the spaces together lengthways as it transforms: from table in the kitchen/dining area it becomes a low seating area, and then a coffee table in the living room space.
The two red kitchen chairs break up the chromatic rigour of the apartment resulting from the design project's respect for the pre-existing neutral tones (flooring, door and window frames, bathroom finishes).