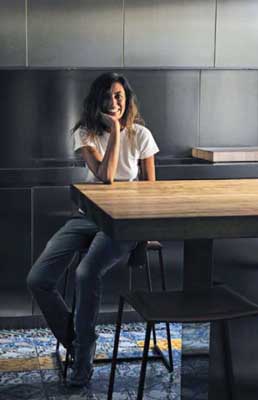 Architetto e designer d'interni, Annalisa Mauri si laurea a pieni voti a metà anni Novanta presso la facoltà di Architettura del Politecnico di Milano. Il rapporto con l'ateneo prosegue anche successivamente: diventa docente e svolge attività di ricerca presso il Dipartimento di Architettura e Pianificazione.
Parallelamente all'attività didattica, nel '96 inizia la libera professione con progetti sia in Italia che all'estero: Architettura, Interior, Design, Urbanistica sono i suoi ambiti di competenza.
Pubblica numerosi testi focalizzando l'attenzione su composizione architettonica, urbanistica e grandi progettisti del Novecento.
Il linguaggio progettuale
Volumi essenziali, linee pulite, un disegno dello spazio che coniuga linearità e funzionalità: è questo il tratto che emerge dai suoi lavori. Uno stile fatto di dettagli (cromatici, estetici, materici) che creano un equilibrio armonioso tra eleganza e raffinatezza. Ogni progetto firmato Annalisa Mauri – che sia un edificio o un appartamento, una scala o un tavolo – è dialogo tra gli elementi compositivi, è equilibrio volumetrico, è ricerca, è studio della luce. Un'essenzialità armonica fatta di purezza e linearità, capace di esprimere sempre grande calore.
L'ispirazione è di matrice modernista con una forte propensione lecorbusieriana e miesiana, poi evoluta nell'interpretazione architettonica di Henry Ciriani e Alvaro Siza. La scelta dei materiali è legata anche al territorio e al rispetto della matrice in cui il progetto si sviluppa, con un occhio sempre attento alle nuove tecnologie. I suoi interni dialogano sempre col contesto in cui sono inseriti – la vetta del Monte Bianco a Chamonix o il mercato a Campo de' Fiori, i blocks di Manhattan o la calda, selvaggia magia di Formentera. I pezzi di design sono scelti con calibrata misura, ad amplificarne la forza estetica. In molti casi, arredi ed elementi architettonici sono disegnati (e realizzati) su richiesta: pezzi unici che vedono nella non replicabilità un'esclusiva forma di lusso moderno.
All'insegna della ricerca
Parte fondamentale del lavoro di Annalisa Mauri è la ricerca: con passione e tenacia è capace di scoprire materiali particolarmente performanti, fornitori disseminati nel mondo che contatta direttamente, creando un rapporto di fiducia con chi fornisce ogni singolo elemento che andrà a comporre il suo progetto. Per questo ogni dettaglio è scelto con cura minuziosa.
Parallelamente, stile di vita e sensibilità estetica, dinamiche e abitudini sono elementi coi quali costruire affinità tra architetto/progettista e cliente/destinatario: ogni suo progetto non prescinde mai da chi, quello spazio, lo vivrà quotidianamente.
Architect and interior designer, Annalisa Mauri graduated with top marks from the Milan Polytechnic Faculty of Architecture in the mid 1990s. Her relationship with the university continued as lecturer and researcher in the Department of Architecture and Planning.
In 1996, in parallel with her educational activities, she started practicing as free-lancer with projects both in Italy and abroad: Architecture, Interiors, Furniture Design and Urban Design are her fields of expertise.
Design language and process
Essential volumes, clean lines, a delineation of spaces that conjugate linearity and functionality: these are the characteristics of her projects. A style in which (chromatic, aesthetic and material) details create a harmonious balance between elegant and refined. Every project by Annalisa Mauri – be it a building or an apartment, a staircaseor table – is a dialogue between the compositional elements, it is volumetric balance, it is research, it is the study of light and its sources. A harmonic essence made of purity and linearity, invariably capable of conveying a deep sense of warmth.
Inspiration is fundamentally modernist with a special affinity for the work of Le Corbusier and Mies Van Der Rohe, and developed into an architectural interpretation of Henry Ciriani and Alvaro Siza. Choice of materials is (also) based on the local territory and respect for the environment in which the project is developed, with a keen eye to new technologies. Her interiors invariably dialogue with their context and surroundings – the peaks of Mont Blanc in Chamonix, the market in Campo de' Fiori,the blocks of Manhattan or the warm and wild magic of Formentera. Her furniture design pieces are carefully calibrated to amplify their aesthetic impact. In many cases her furniture and interior architecture elements are custom designed (and made):one off pieces which, in their non-replicability, become a form of modern luxury.
She has published a number of books focussing attention on architectural composition, urban planning and the great architects and designers of the 20th Century.
In the name of research
Research is a fundamental part of Annalisa Mauri's work: her passion and tenacity leadher to discover particularly well-performing materials, creating direct contact with suppliers across the globe and developing trusting relationships with those who will provide the components of her projects. That is why every detail is chosen with meticulous care.
In parallel, lifestyle and aesthetic sensibility, dynamics and habits are elements that form the basis for creating an affinity between architect/designer and client/end user: her projects are always intrinsically linked to the person(s) who will end up using and living that space on a daily basis.