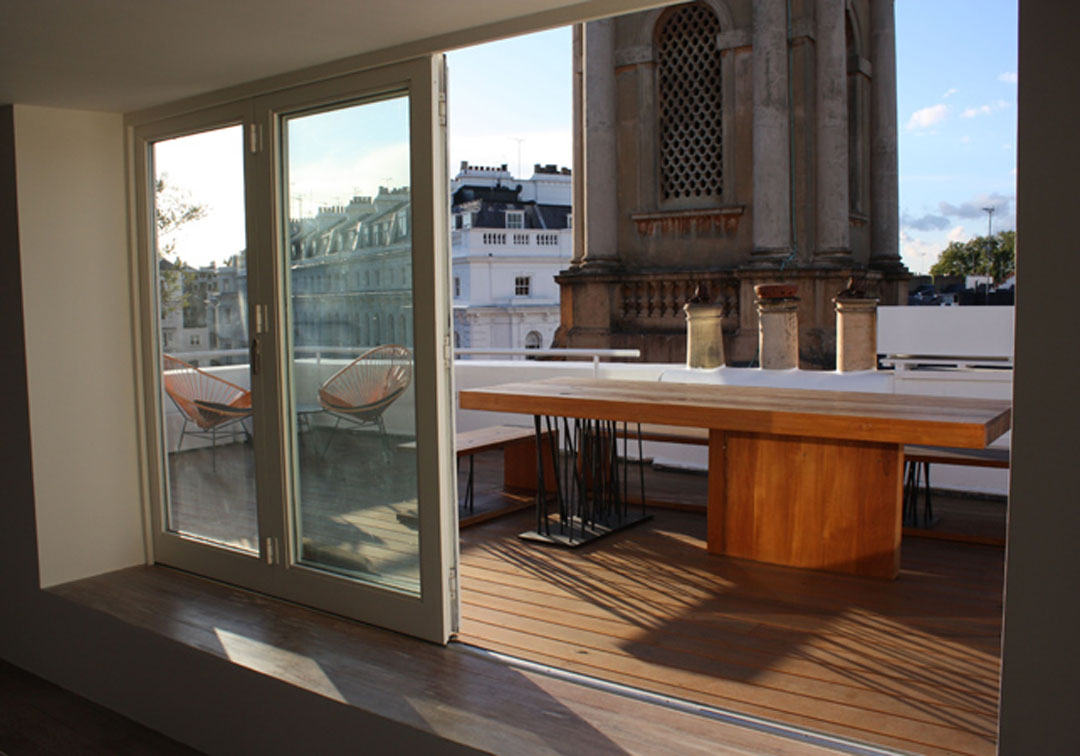 vintage & design
Il colore fa da filo conduttore tra esterno e interno, tra macro e micro, tra quanto sta fuori e quanto è dentro questo tipico building in Notting Hill: è rosso il portoncino su strada, è rosso l'accesso alla penthouse su due piani ristrutturata da Annalisa Mauri.

Il campanile della chiesa sconsacrata attigua all'edificio fa da quinta alla terrazza sui tetti, gioco tra sacro e profano che sottolinea il gusto per i contrasti di tutto il progetto: arredi vintage vivono accanto a classici elementi di design del Novecento e contemporanei, armonizzati da pezzi esclusivi su disegno di Annalisa Mauri (tra cui il grande tavolo in noce canaletto, con bordi rastremati in stile anni Cinquanta).
Come sempre, molta attenzione all'illuminazione e alla polivalenza di alcuni elementi: la porta scorrevole multiuso; la scrivania dinamica; il camino in lamiera che raccorda scala e vano contenitore. Per Annalisa Mauri la fruibilità degli spazi passa (anche) attraverso l'anima polifunzionale dei pezzi d'arredo disegnati in esclusiva.
vintage & design
Colour is the leitmotiv that links exterior and interior, connects macro and micro, forms a relationship between what is outdoors and indoors in this typical Notting Hill building: red is the colour of the front door, red is the colour of door to the penthouse developed over two floors and renovated by Annalisa Mauri.

The steeple of the deconsecrated church next door acts as backdrop to the terrace that looks out onto rooftops, a juxtaposition of the sacred and the profane that emphasises the taste for contrasts characterising the entire project: vintage furnishings cohabit with 20th century and modern elements, complemented by exclusive pieces designed by Annalisa Mauri (among which the large table in canaletto walnut with 50s-style tapered edges).
Great attention is invariably given to lighting and to the versatility of certain elements: the multifunctional sliding door, the dynamic desk, the sheet metal fireplace that connects the staircase to storage space. For Annalisa Mauri the usability of spaces is (also) acquired through the versatile essence of the exclusive, tailor-made furnishings.