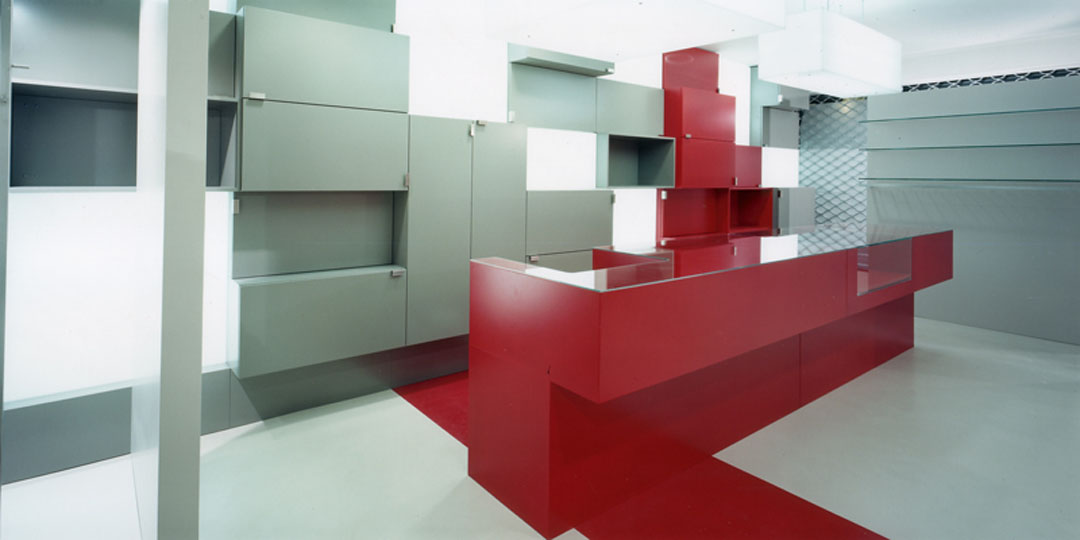 il negozio polifunzionale
Un negozio su due piani (terra e seminterrato) sviluppato in lunghezza, con i lati longitudinali destinati a vetrina: il progetto di Annalisa Mauri ha risolto l'esigenza di esposizione, stockaggio e vendita della merce trasformando la complessità dello spazio in punto di forza.
Elementi verticali che si raccordano alle pedane in vetrina e che fungono da scaffalature o espositori, cubi cavi nei quali riporre il magazzino, pannelli scorrevoli che da parapetto possono diventare sfondo delle numerose vetrine, in un gioco di pieni e vuoti che si trasforma secondo le esigenze creative di esposizione interna o esterna.
a multifunctional shop
A shop that develops lengthways on two floors (ground and lower ground) with the longitudinal sides dedicated to display areas: Annalisa Mauri's project solved the requirements of presentation, storage and sale of merchandise by transforming the complexity of the space into its strong point.
Vertical elements are joined to the supports in the display area, creating shelving or presentation units, hollow cubes act as storage spaces, sliding panels have the dual function of parapets and background to the various display areas. A play of voids and solids that can be modified according to the creative requirements of internal or external presentation.
type: universal store concept